Like his father, Mayor Chokwe Antar Lumumba is a communist, which is precisely why Jackson, Mississippi is a crime-ridden, mismanaged, corrupt mess. Crime is rampant, the homicide rate has exploded to record levels, and the water is unsafe.
Lumumba became mayor in 2017, winning 93% of the vote. He has repeatedly bragged that he will make Jackson the "most radical city on the planet."
Jackson's current mayor has deep ties to the Marxist-Leninist / Maoist Freedom Road Socialist Organization (FRSO). He is also connected to the Marxist-Leninist Democratic Socialists of America (DSA), according author and filmmaker Trevor Loudon, an expert on communist infiltration.
Chokwe Lumumba, The Revolutionary Father
In 2009, Lumumba's father, who named himself Chokwe Lumumba, was elected Jackson City Councilman. He was also elected as Mayor of Jackson for a short period before his death in 2014.
The elder Lumumba was a known Marxist Revolutionary and radical attorney, who changed his name from Edwin Taliaferro to Chokwe Lumumba after the "Chokwe ethnic group of Central Africa and the Congolese revolutionary Patrice Lumumba." A very influential school for Marxists was also named after Patrice Lumumba, which was "founded to help spread the gospel of communism in the developing world."
Lumumba campaigned for a separate black nation within America, a communist strategy known as the Jackson-Kush Plan. This vision was a step towards global revolution.
"We have to abandon the traditional models of how we develop our cities," the younger Lumumba told a progressive Netroots audience in August, 2018. We need to have a "solidarity economy," he said, following in his father's footsteps.
Crime in Jackson
But the utopian vision has not materialized in Jackson, where homicide and poverty is rampant. "2020 [was] the deadliest year ever…edging out previous all-time records set in 2018 and 2019," according to the local NBC affiliate in January. "Most other major cities in the U.S. with populations several times larger than Jackson have far smaller homicide rates," the article continued.
Chokwe's radical sister Rukia Lumumba is the executive director of the "People's Advocacy Institute." Watch Rukia and her comrades discuss their work in emptying prisons, among other issues here:
It was reported in December that "[A]lmost two dozen current and former police officers are taking the city and department to federal court over harassment, racial profiling, and poor working condition allegations." The lawsuit can be found here.
Jackson's Residents do not have Adequate Drinking Water
In addition to rampant and escalating crime, Jackson has had major problems with providing safe drinking water for the citizens. The local news reports that the Environmental Protection Agency (EPA) "issued an emergency order to the city requiring it to address numerous deficiencies at its water treatment plants."
The order was "kept under wraps for more than a year until exposed recently in local media". Lumumba blames "environmental racism, divestment and white flight" for the water problems.
The media framed the crisis as a problem with infrastructure. This gave the communist mayor and his allies a pass for not addressing the long-standing problem.
There has not been a Republican mayor in Jackson for over 70 years.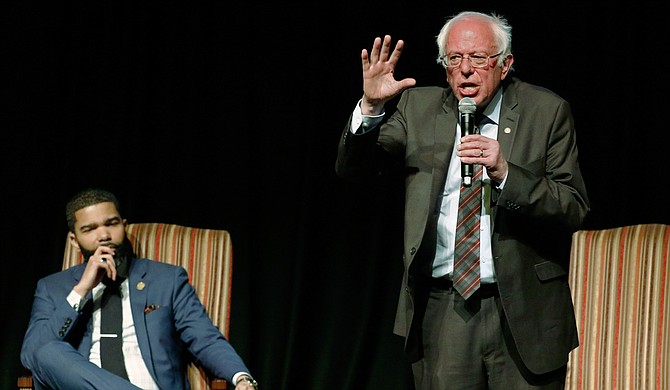 Bernie Sanders Endorses Chokwe Antar Lumumba for Mayor
It should not come as a surprise that Lumumba endorsed crypto-communist Bernie Sanders for President in 2020. Bernie endorsed the young revolutionary for his June, 2021 re-election bid. Lumumba's Republican opponent is Jason Wells, who is running on a law and order platform. It does not appear that Wells has support from the Republican Party.
The general election is to be held on June 8, 2021.