Blinded by Beijing: The World Health Organization Director is a China-Funded Marxist Revolutionary
Posted by Renee Nal
On March 28, 2020
6 Comments
China, China Virus, Chinese Coronavirus, Dr. Tedros, Tedros Adhanom Ghebreyesus, World Health Organization, Wuhan Virus
"The Chinese state councilor went on to say that healthcare was an important part of global governance and China's national development strategy. He said Beijing was willing to deepen cooperation with the WHO under a number of initiatives…" – Article describing July 17 2018 meeting with WHO Chief Tedros Adhanom Ghebreyesus and high level Chinese officials in Beijing
The World Health Organization's (WHO) current Director-General and Marxist revolutionary Tedros Adhanom Ghebreyesus is so deeply in bed with the Chinese Communist Party (CCP) that he and his organization should be completely discredited and ignored when it comes to dealing with the Chinese coronavirus.
Marxist Revolutionary
While numerous articles have pointed out that Tedros Adhanom Ghebreyesus likely repeatedly covered up Cholera outbreaks in Ethiopia and several addressed his inexplicable appointment of the late Zimbabwean dictator Robert Mugabe (another pawn of China) as a "Good Will Ambassador," very few have delved into his Marxist ideology.
Well before serving as WHO Chief, Tedros served on the politburo – or governing body – of the Marxist-Leninist Tigray People's Liberation Front (TPLF). He served as Minister of Health from 2005 to 2012 under the late Prime Minister Meles Zenawi, who founded the Marxist-Leninist League of Tigray in 1983, which is associated with the TPLF.
As explained at Keywiki, a website that profiles hard left activists and politicians:
Tedros Adhanom Ghebreyesus is a member and has served on the politburo of the Tigray People's Liberation Front (TPLF), which 'traces its origins in the Marxist-inspired student movements of the late 1960s and early 1970s in Ethiopia… It was a staunch socialist movement with its hardcore secret party, the Marxist-Leninist League of Tigray (MLLT)…' which was founded by Meles Zenawi. The TPLF is one of the branches of the 'Marxist and violently repressive' Ethiopian People's Revolutionary Democratic Front (EPRDF), which consisted of Tigray People's Liberation Front, Amhara Democratic Party, Oromo Democratic Party and Southern Ethiopian People's Democratic Movement.
The head of the World Health Organization praised the late Marxist revolutionary as recently as August on Twitter.
This deep Marxist ideology is likely a bond which has led to, as Tedros himself described in 2014, a "fruitful and comprehensive relationship" with the Chinese Communist Party.
Belt and Road Project
While he goes by "Dr. Tedros," the WHO Chief is not a medical doctor, but was appointed to his prestigious position with the avid support of the Chinese communist regime, with whom he has had a long and gushing relationship, based partly on the infrastructure support and funding Dr. Tedros' country Ethiopia receives from the so-called "Belt and Road" project, an initiative which is "significantly expanding China's economic and political influence."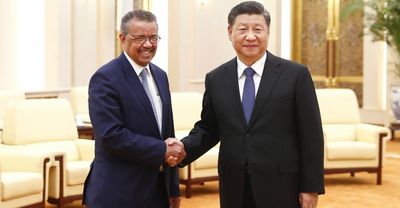 It is not a stretch to consider that the leftist governments are selling their nations' souls to China (Italy is one of those countries) for short term financial gain. In 2014, well before he was appointed as head of the World Health Organization, Dr. Tedros himself outlined the gifts Ethiopia received from China:
"China has become the biggest foreign investor and the largest trading partner of Ethiopia. Ethiopia is now one of the main markets in Africa for Chinese products, equipment, technology and investment. Since 2006, China, through various mechanisms, has provided a large amount of financial support for the construction of a number of Ethiopia's mega projects. These include the first Express Toll Way and the first operative Wind Power Plant, the Addis Ababa Light Track Railway and other modern railways developments as well as the Tirunesh-Beijing Hospital and the Confucius Institute. They are vivid illustrations of our fruitful and comprehensive relationship."
In July 2018, Dr. Tedros met with high ranking Chinese officials in order to "increase cooperation in healthcare." A summary of the meeting revealed in part:
The Chinese state councilor went on to say that healthcare was an important part of global governance and China's national development strategy. He said Beijing was willing to deepen cooperation with the WHO under a number of initiatives, such as their joint 'Health Silk Road' project, various China-Africa health development plans, as well as the organization's five-year action plan for health, employment and inclusive economic growth.

Dr. Tedros welcomed Wang's comments, saying their enhanced cooperation would improve health standards in countries involved in the Belt and Road Initiative.
Are WHO and China Working Together to Spin a Narrative?
Consider that China covered up another novel coronavirus, SARS, in 2002-2003 and Dr. Tedros (likely) covered up several Cholera outbreaks in Ethiopia. Are these Marxists willing to lie? Of course. Why would citizens trust them now? Is it really a stretch to consider that Dr. Tedros would sacrifice his integrity to push a false narrative about China?
As people who study the radical left know full well, the art of lying is pivotal to their success, and they are masters at it, lying their way through life in order to promote their fake narrative and devious agenda of power and control.
Anti-communist expert and author of WHITE HOUSE REDS: Communists, Socialists & Security Risks Running for US President, 2020 Trevor Loudon spoke with RAIR Foundation USA about what he referred to as America's "misguided" decision to fund the World Health Organization as an arm of the United Nations and further as a group "whose globalist agenda is contradictory to America's status as a sovereign nation."
Loudon said:
"It is clear that the WHO Director is not looking out for the best interests of the world in the face of a global pandemic, but is rather acting as a puppet for the communist party of China, serving their agenda to the detriment of the United States."
It should be noted that President Trump is seeking to cut funding from WHO and the United Nations, and he is getting plenty of heat from leftists, and little support from Americans who should support him loudly in that effort.
WHO Chief Tedros Adhanom Ghebreyesus is a Marxist revolutionary. This information is easy to find for anyone with an internet connection who knows where to look, but this fact is evidently not important enough for the mainstream media to report, perhaps because they are sympathetic to the Chinese Communist Party themselves.
Support our work at RAIR Foundation USA! We are a grassroots activist team and we need your help! Please consider making a donation here: https://rairfoundation.com/donate/