A dizzying global left-wing network, including elected democrats in America, has come out in support of violent terrorist front groups posing as "human rights" organizations.
The Israeli Defense Ministry has found that the groups are affiliated with the murderous Popular Front for the Liberation of Palestine (PFLP), a "secular Palestinian Marxist-Leninist and revolutionary socialist organization". PFLP is also designated in the United States as a terrorist organization. Gideon Saar, Israel's Minister of Justice stated that the terrorist designation "was made on a factual and legal basis" by the Ministry of Justice.
But those who fervently defend the terror-tied groups do not attempt to "debunk" the organizations' ties to the PFLP.
There is even a hashtag used to support the organizations: #StandWithThe6.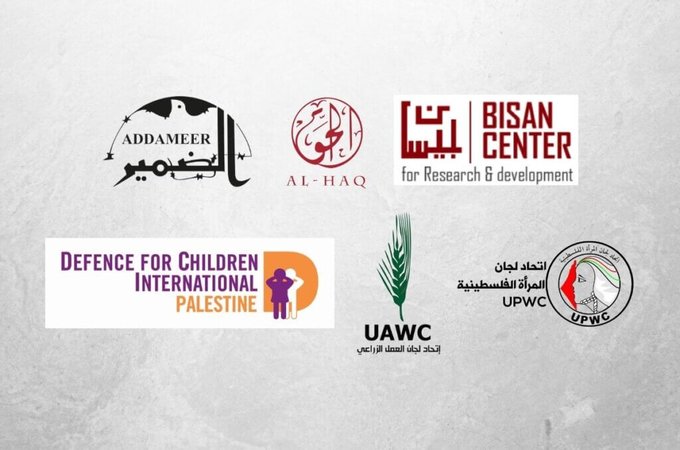 American Democrats Support Terror-Tied Organizations
Despite the groups' terror-ties, Minnesota Representative Betty McCollum has sponsored a bill condemning Israel for the terrorist designation.
House Resolution (HR) 751 has been co-signed by far-left members of Congress Rashida Tlaib, Raul Grijalva, Andre Carson, Ilhan Omar, Marie Newman, Alexandria Ocasio-Cortez, Ayanna Pressley, Cori Bush, Jesus Garcia, and Eleanor Norton.
How is it possible that elected democrats are openly supporting front groups for a designated terrorist organization responsible for the murders of innocent people?
On Saturday, radical activists from the Chicago chapters of the Freedom Road Socialist Organization and their "affiliate" US Palestinian Community Network rallied outside of Rep. Jan Schakowsky's house pushing her to sign onto HR 751, as well as HR 2590.
Also introduced by Rep. Betty McCollum, HR 2590 limits U.S. aid to Israel.
One of the speakers also referenced hard left groups Jewish Voice for Peace, Defense for Children International – Palestine, and American Friends Service Committee as "allies." Speakers included representatives from Organized Communities Against Deportations (OCAD), Chicago Alliance Against Racist and Political Repression, and Anakbayan Chicago.
They posted a video of their protest on Facebook:
Another forum in defense of the terror tied groups was posted on Facebook featuring Husam Marajda, co-chair of the Chicago chapter of US Palestinian Community Network (USPCN) and Meredith Aby-Keirstead, antisemitic high school social studies teacher and member of the Anti-War Committee:
PFLP Murders Innocent People, Including Americans
The Popular Front for the Liberation of Palestine has been involved in numerous deadly terror attacks. For example, in 2014, two cousins affiliated with the PFLP murdered four rabbis and a police officer.
At the time, Hamas spokesman Mushir al-Masri called the slaughter "heroic."
The killers, Odai Abed Abu Jamal, 21 and his cousin Ghassan Abu Jamal, 27, were members of the Popular Front for the Liberation of Palestine. In the wake of the terror attack, Palestinians celebrated in the streets and held up photos of the terrorists.
The 2014 terror attack was described in part at the New York Post:
Two Palestinian cousins wielding axes, meat cleavers and guns turned morning prayers at a Jerusalem synagogue into a bloodbath Tuesday, killing five people — including three American rabbis.

The terrorists, screaming, 'Allahu akbar' — God is great — stormed the Kehilat Yaakov synagogue in the ultra-Orthodox neighborhood of Har Nof just before 7 a.m., attacking roughly two dozen prayer-shawl-clad worshippers.
Earlier this month, Hamas operative Fadi Abu Shkhaydam murdered Eliyahu David Kay, 26, and wounded four others.
From an article at the Times of Israel:
On Sunday morning, Abu Shkhaydam, armed with a Beretta M12 submachine gun, opened fire at a group of Israeli men who were walking in the alleyways of the Old City near the Western Wall, by the Chain Gate entrance to the Temple Mount, killing one of them, seriously injuring a second and moderately wounding a third.

The man who was killed, Eliyahu David Kay, 26, was a tour guide at the Western Wall Heritage Foundation and was on his way to the site when he was killed. The two other wounded were ultra-Orthodox men who were making their way back from the Western Wall after morning prayers.
A "Joint press statement by Hamas Movement and Popular Front for Liberation of Palestine" referred to the terrorist murderer Fadi Abu Shkhaydam as a "heroic martyr".
Global Support for Terror-Tied Groups
A group called "Artists for Palestine UK" joined American democrats in condemning Israel for what they described as an "unprecedented and blanket attack on Palestinian human rights defenders". The statement failed to mention that the "human rights" groups are front groups for a murderous terror organization.
Some of the signatories included actors Susan Sarandon, Richard Gere, Claire Foy, Mark Ruffalo and Weather Underground terrorist Bernardine Dohrn.
This week, another coalition of leftist "trade unions, political parties and human rights groups" sent a letter to Josep Borell, the EU High Representative for Foreign Affairs. Many others, including the United Nations, have criticized Israel for the designation – without addressing the substantive issue of terror ties.
As RAIR has observed, the left embraces terrorists. So it is no surprise that leftists and their Muslim allies are unconcerned about the murder of innocent people.
Famous PFLP terrorist Leila Khaled is celebrated by the left despite her involvement in hijacking airplanes. Rodney Khazzam was a child on the plane with his family when Popular Front for the Liberation of Palestine terrorist Leila Khaled hijacked El Al flight 219.
Despite her terrorist activities, the left celebrates Khaled, giving her a platform at universities and the European Parliament, for example.
See Khaled's comments compiled by NGO Monitor:
Watch this interview with Rodney Khazzam, a hijacking survivor:
Americans have been murdered in the not-so-distant past by the Popular Front for the Liberation of Palestine. Through their front groups, the PFLP is being explicitly supported by Democrats. Yet, the GOP remains silent.
Read Selected Articles at RAIR Foundation USA