Islam goes beyond merely disapproving of homosexuality. Sharia teaches that homosexuality is a vile form of fornication, punishable by death.
In multiple predominantly Muslim countries, homosexuality can be punished with death, in the majority of predominantly Muslim countries it is forbidden to practice or to publicly defend homosexuality.
Homosexuals are beheaded, hanged and stoned to death in five countries — by the government in Iran and Saudi Arabia and by uncontrolled militias in Iraq, Yemen and Somalia where Muhammad's laws are applied most strictly. These five Muslim countries have the death penalty on their books for homosexual behavior. In the past, gays were also burned to death.
Why haven't Western left-wing leaders raised the question of gay rights under Islam? U.S. Democrats and their celebrity activists have never once promoted a boycott of the Islamic regimes that stone, execute and jail their homosexual citizens.
Muslim political leaders in America and throughout the West often form alliances with left-wing politicians and organizations which sometimes include peripheral support for gay rights. This alliance appears to be more out of expediency and self-interest rather than genuine concern. There has never been any noticeable effort on the part of Muslim leaders in the West to relieve the plight of homosexuals in Islamic countries overseas – where their influence would surely carry more weight than that of their secular allies.
Read the following article: 5 countries impose — or tolerate — death penalty for gay sex, by Colin Stewart, Originally posted at "Erasing 76 Crimes".
Executions for gay sex occur in five countries — by the government in Iran and Saudi Arabia and by uncontrolled militias in Iraq, Yemen and Somalia. Those are the best current estimates of the most extreme anti-gay brutality imposed worldwide.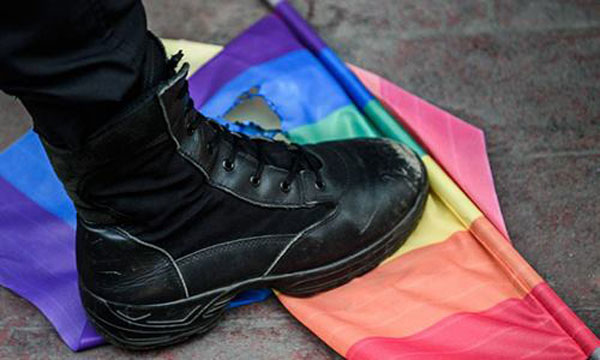 Six nations with large Muslim populations have laws that clearly provide the death penalty for gay sex — Brunei, Iran, Mauritania, Nigeria (only in the Muslim-majority north), Saudi Arabia and Yemen.
But most of those governments don't actually impose that death sentence.
However, executions by non-governmental militias are carried out in Iraq, Somalia and Yemen.
The following charts can help illuminate this complex situation. They are from a 2020 update on the current status of anti-gay laws by ILGA, the International Lesbian, Gay, Bisexual, Trans and Intersex Association.
Below the two charts, more detailed information from Erasing 76 Crimes is listed for each country.
The first chart lists countries where "there is legal certainty" that the death penalty is an allowable punishment for consensual same-sex sexual acts.
By ILGA's tally, six nations have laws providing the death penalty for consensual same-sex intimacy. Of those six, four have NOT carried out executions in recent years, but two of them — Iran and Saudi Arabia — may have, ILGA states.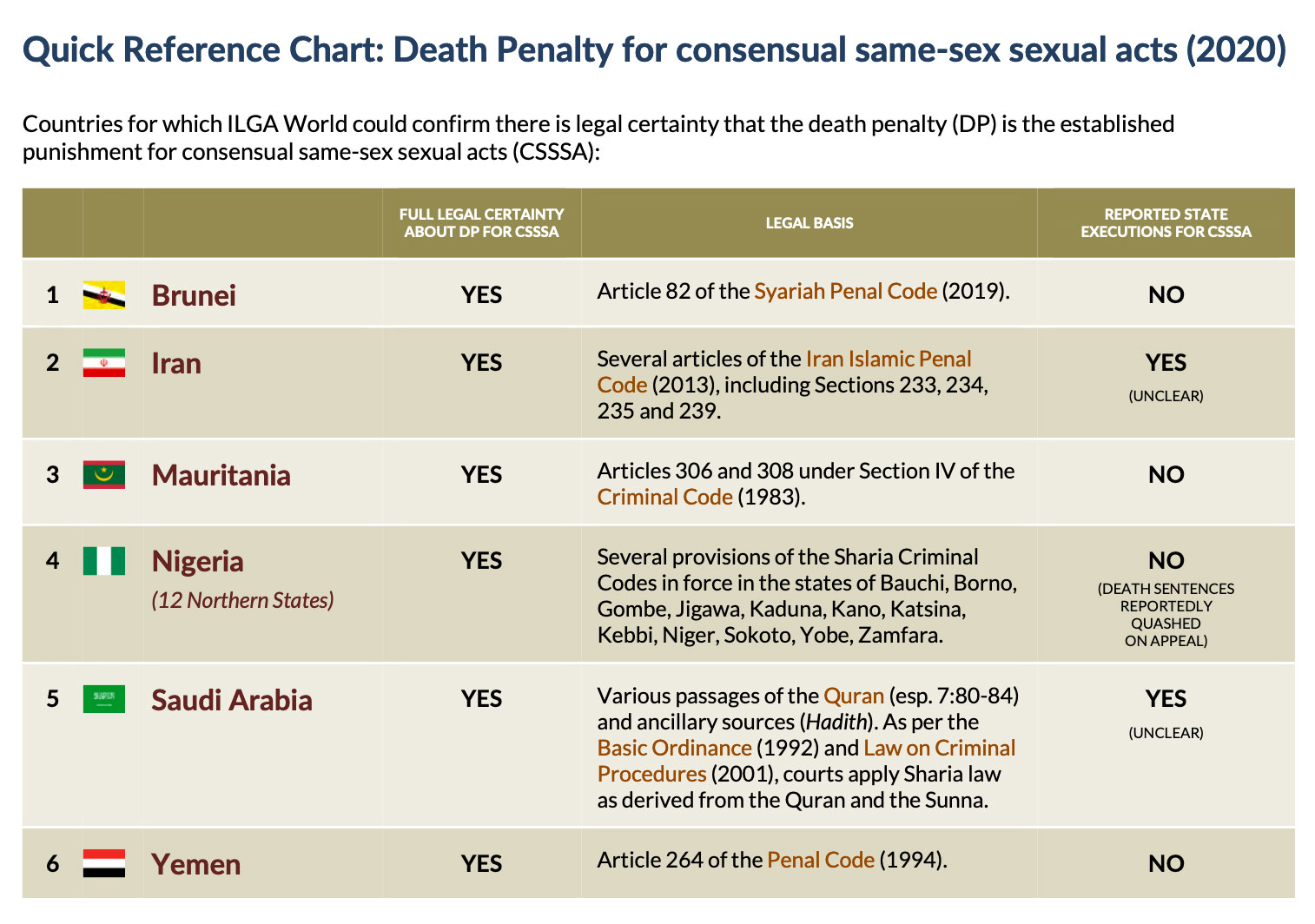 The second chart lists five countries where "there is no full legal certainty" that the death penalty is an allowable punishment for consensual same-sex sexual acts. Of those five, four nations have NOT carried out such executions in recent years, while one of them — Somalia — may have, according to ILGA.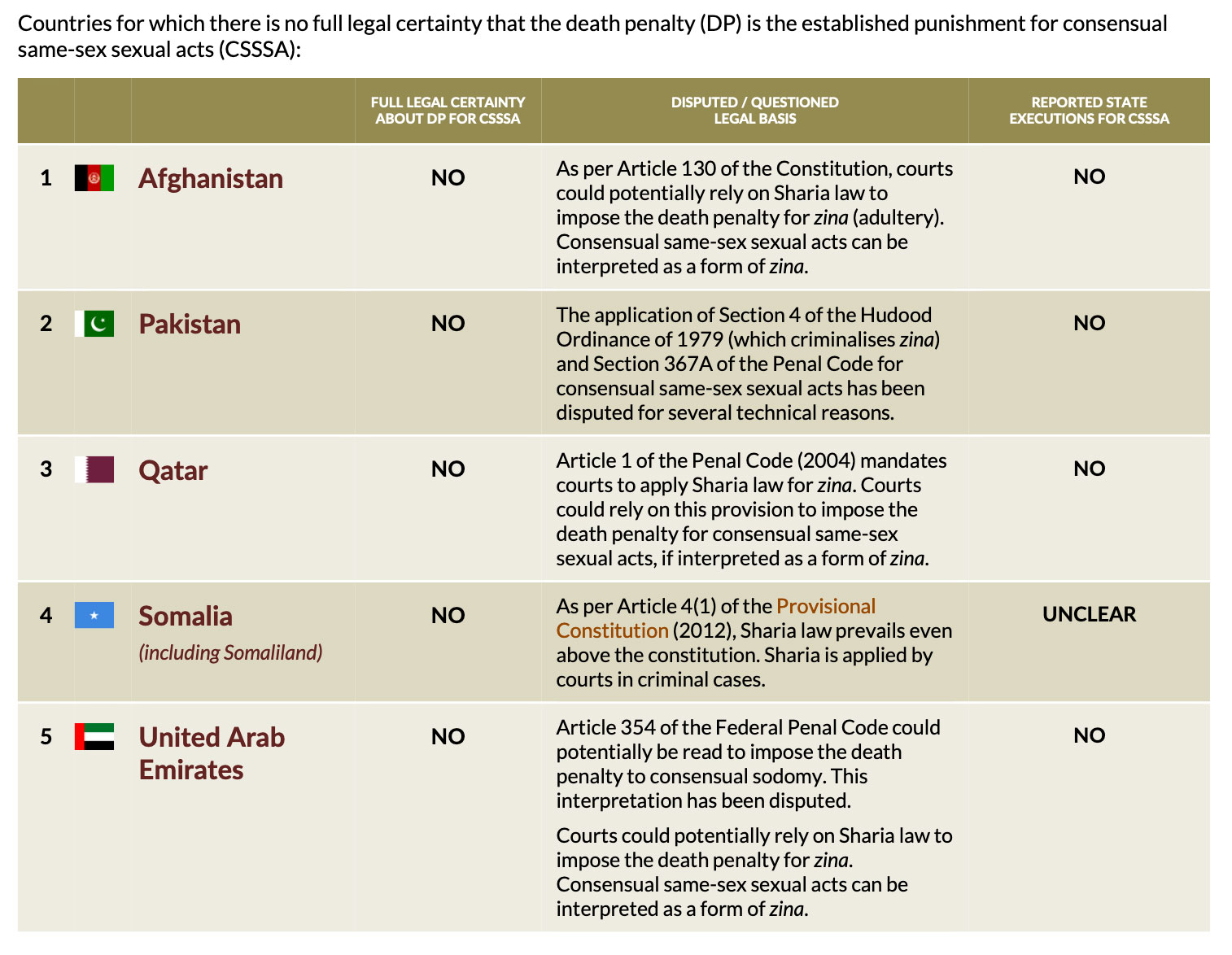 In addition to the 11 nations listed above, Erasing 76 Crimes adds Iraq, which tolerates executions by non-government militias.
EXECUTIONS
Here is this blog's best-information-available list of countries/regions where executions for gay sex are carried out:
Nations with such laws on the books; executions have been carried out in the recent past:
Iran is No. 2 in the world for frequency of executions of any kind, behind China. Those may include executions for homosexual activity, although the facts are often unclear or misrepresented. (See, for example, "Bogus hanging in Iran, bogus tweets in Egypt" and "Series of public hangings in Iran, including 2 for sodomy." When a man in Iran is hanged after being convicted of rape and sodomy, media coverage often wrongly describes the punishment as execution for homosexuality.)
The 2020 ILGA report cites only one example of executions for consensual homosexual activity in Iran since 2010: In August 2014, reports indicated that two men were executed by hanging for allegedly having engaged in consensual same-sex sexual acts.
Eight other executions for sodomy are cited, without any indication whether the act was consensual or forced — one prisoner in 2017, four men reported "due to be executed" in 2012, and three men hanged in 2011.
Saudi Arabia is No. 3 among the world's most avid executioners, with 90+ people executed for a variety of crimes in 2014.
In a sense, Saudi Arabia has no anti-homosexuality law, but that's only because it has no codified Penal Law at all. Instead it applies strict Islamic Sharia law in which "according to the Sura 7:80/81, sexual intercourse between men is outlawed," ILGA reported in 2019.
The 2020 ILGA report cited multiple past executions related to homosexuality, but in each one the circumstances were unclear.
The report stated that "in the vast majority of known cases where Saudi Arabia has executed people on the grounds of sodomy, those accused had reportedly been sentenced with multiple additional criminal charges, such as terrorism, extremism, theft, murder, child abuse, and rape. It is often unclear how many (if any) of those offences are factual, and whether 'sodomy' is used as an aggravating circumstance or purposely conflated with other crimes by state authorities for arbitrary reasons."
In 2000, six men were executed in Saudi Arabia, apparently for alleged homosexual activity. Amnesty International stated that they had been executed "partly, if not primarily, due to their sexual orientation."
In 2019, Saudi Arabia executed 37 Shia Muslim men who were accused of "hating the Sunni sect, the State and its security forces. Of them, five were also accused of sodomy.
Nation with such a law on the books; executions have been carried out in the recent past by militias:
In Yemen, as in Iraq, executions are carried out by militia rather than by the central government.
Yemeni law provides the death penalty for same-sex intercourse. But although Yemen is No. 7 in the world in frequency of executions overall, in recent years none has been for homosexual activity. As researchers for Canada's Immigration and Refugee Board reported more than 10 years ago, "Information on whether such sentences have been carried out was not found." More recently an article on Yemen's gay community in The Tower magazine stated, "Traditionally, that death penalty is not enforced, but citizens have been imprisoned for their sexual orientation."
However, in the midst of Yemen's civil war, insurgent militia have reportedly executed people for homosexuality. These included:
In 2013, members of Al-Qaeda in Yemen were reportedly killing gay men as were militants of Ansar Al-Sharia.
Between 2012 and 2014, Al-Qaeda in the Arabian Peninsula (AQAP) reportedly killed at least 25 people on the basis of their sexual orientation.
AQAP reportedly murdered four gay men in the Yemeni capital of Aden, after AQAP took over parts of the city. (See the Erasing 76 Crimes article "Four murders of gay men in Yemen.")
Nations with no such law on the books; executions are carried out by militias and others:
The ILGA report of 2015 noted that "Iraq, although [the death penalty is] not in the civil code, clearly has judges and militias throughout the country that issue the death sentence for same-sex sexual behaviours." For example: Iraq has become a death trap for gay men (September 2012)
A gay teenager was reportedly stoned to death in 2013 after he was tried and convicted of sodomy by an Al-Shabaab judge. The 2020 ILGA report stated: "The veracity of this incident was briefly contested when it was discovered that the Somali Gay Community, who first reported the event on Facebook, had used photographs of unrelated instances of stoning from earlier years to communicate its message. However, other sources indicated that the execution indeed took place."
In early 2017, al Shabaab executed a 20-year-old and a 15-year-old for "immoral and reprehensible" sexual acts. "The incident was confirmed by Sheikh Mohamed Abu Abdalla, a regional governor for Al-Shabaab," according to the 2020 ILGA report.
NO EXECUTIONS DESPITE SHARIA
Afghanistan, Mauritania, Nigeria,Pakistan, Qatar, U.A.E. and Brunei
The BBC reported in 2007, about Nigeria, "More than a dozen Nigerian Muslims have been sentenced to death by stoning and for sexual offences ranging from adultery and homosexuality. But none of these death sentences has actually been carried out as they were either thrown out on appeal or commuted to prison terms as a result of pressure from human rights groups."
ILGA reported, "Several Northern Nigerian states have adopted Islamic Sharia laws, criminalising sexual activities between persons of the same sex. The maximum penalty for such acts between men is death penalty, while the maximum penalty for such acts between women is a whipping and/or imprisonment." No specific executions cited.
The ILGA report of 2017 summarized: "it would be valid to say that the death penalty is 'allowed', or evidence of its existence, occurs [because of] its potential application by Shari'a courts in Pakistan, Afghanistan, the United Arab Emirates, Qatar and Mauritania, … [but] these States have less severe penalties encoded in their penal laws, and there appears to be no data to suggest the death penalty has been implemented in those States for consensual same-sex sexual acts between adults and in private."
A U.S. Department of State cable from 2009, released by WikiLeaks in 2011, indicated that Mauritania has never imposed the death penalty for homosexual activity or any other crime.
In April 2019, Brunei adopted a version of sharia law that provides for death by stoning for consensual same-sex sexual activity for both men and women. But in May 2019, under international pressure, the Sultan of Brunei announced that a common-law moratorium on executions would be extended to cover that sharia law.
NO LONGER ON THE LIST
In July 2020, Sudan dropped the death penalty as a punishment for homosexuality. At the time, there had been no recent reports of executions for same-sex intimacy.
In the past, the Islamic State, also known as ISIS, ISIL and Daesh, was included on the list of governments imposing the death penalty for gay sex. At its height, ISIS repeatedly executed men accused of homosexuality. For example, from 2015: 'Islamic State' has reported 15 LGBTI executions. Now, after years of gradually successful armed struggle against it, ISIS remains an international pariah, but no longer deserves to be considered a de facto nation.
For more information: