An annual socialist conference is underway that no one is paying much attention to. Netroots Nation, a three-day event, is the largest progressive conference of the year. Their panel discussions focus on further promoting radical leftist ideology while organizing and mobilizing the base to ensure more far-left candidates are elected.
A Training Camp for Socialists
The conference for far-left activists is more of a training camp for socialists that is not only celebrated by some of the most well-known faces in the Democrat Party but is given tax-exempt status by the federal government. Participants are using the hashtag #NN21.
Maurice Mitchell, National Director of the Working Families Party said of the conference:
"It was a lit occasion for comrades to kick it, build, and plot. Also, for my first (Netroots conference), it felt very easy to engage and navigate."
Mitchell is connected to America's largest Marxist organization, the Democratic Socialists of America. He is also connected to the influential socialist group "Liberation Road."
A Brief History and Overview
So what exactly is Netroots Nation? Founded in 2006 by Daily Kos blogger Markos Moulitsas Zuniga, it was known then as the "Yearly Kos", rebranding in 2008 to Netroots Nation.
Their website states:
"Our attendees are online organizers, grassroots activists and independent media makers. Some are professionals who work at advocacy organizations, progressive companies or labor unions, while others do activism in their spare time."
This year's conference is being held October 7th-9th virtually due to COVID concerns but was originally planned as an in-person conference held in Washington, DC. Don't fret, the conference's Twitter account explains there are "100+ hours of content available".
On the conference's website, interested parties are to download an app where they can watch the discussion panels live, or view and download panels they may have missed. Attendees can join in live via Socio and Zoom to participate or watch different discussions.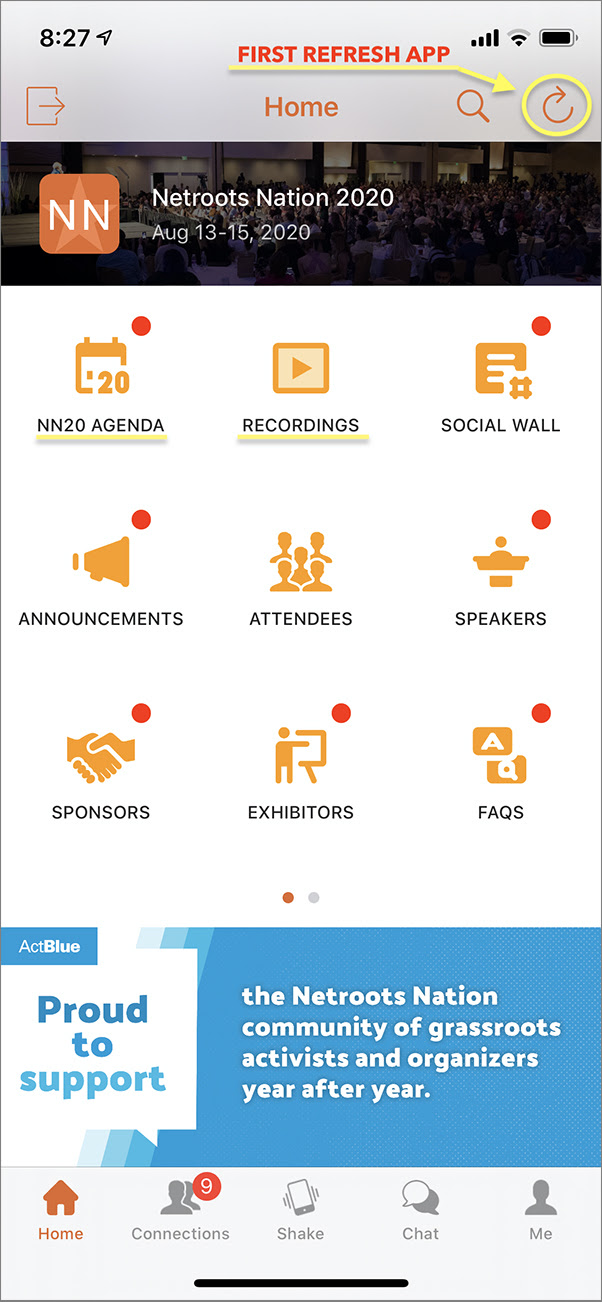 If you don't have the money to purchase a ticket outright, they offer scholarships and volunteer opportunities via the website. The site also has an entire page devoted to how you can also "convince your boss" to purchase tickets for yourself and other employees to attend, along with talking points to ensure your employer signs on.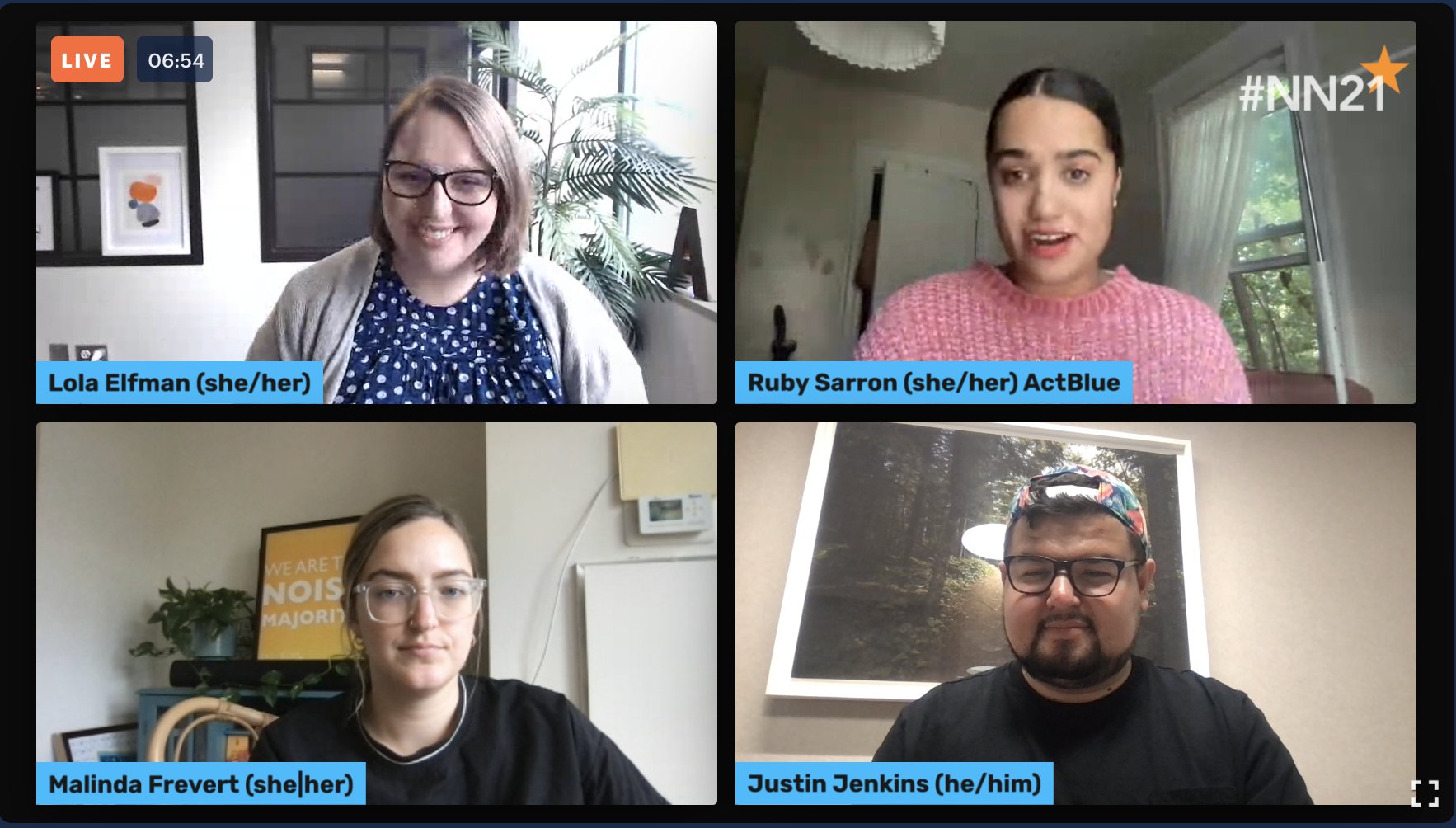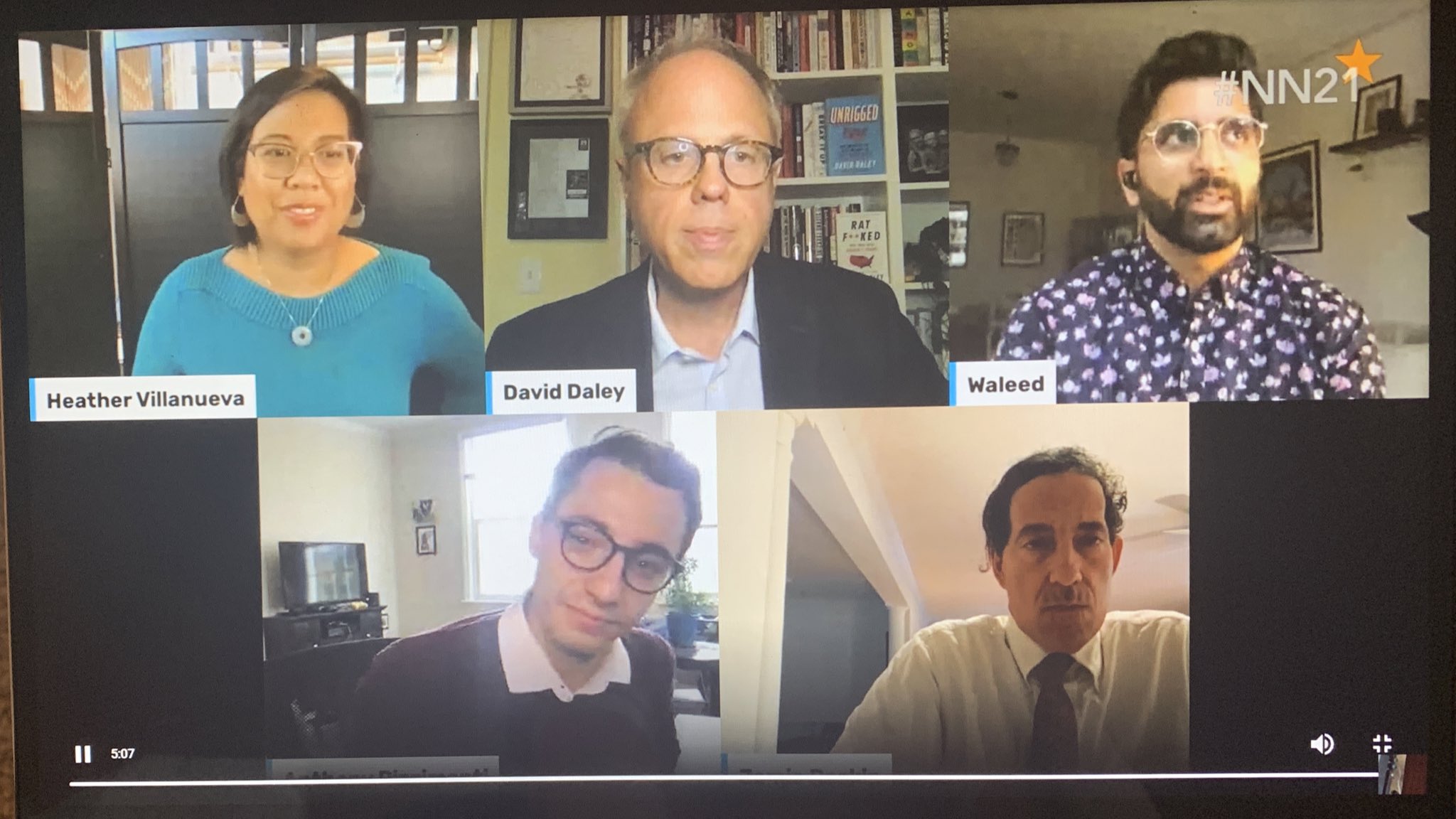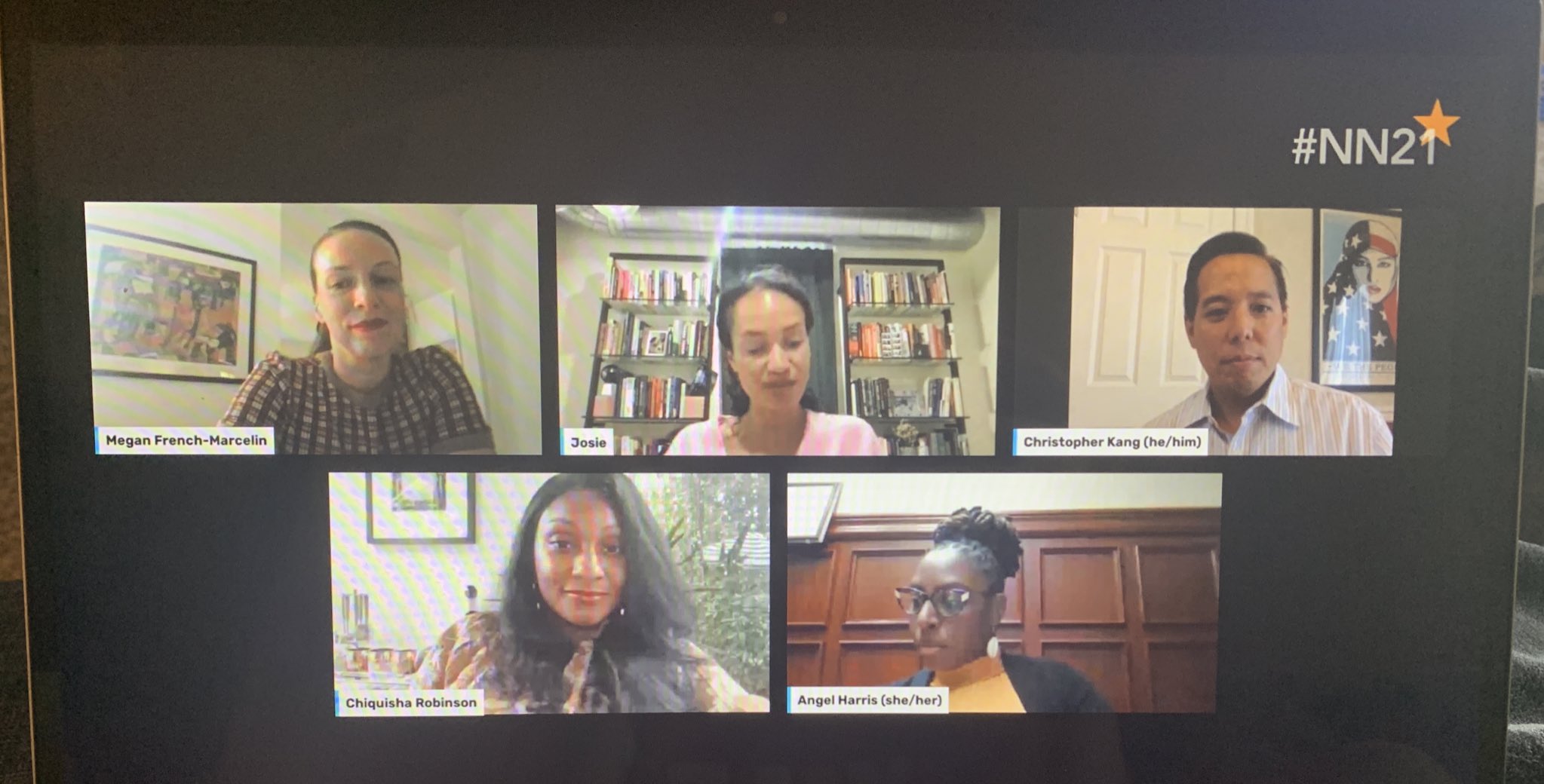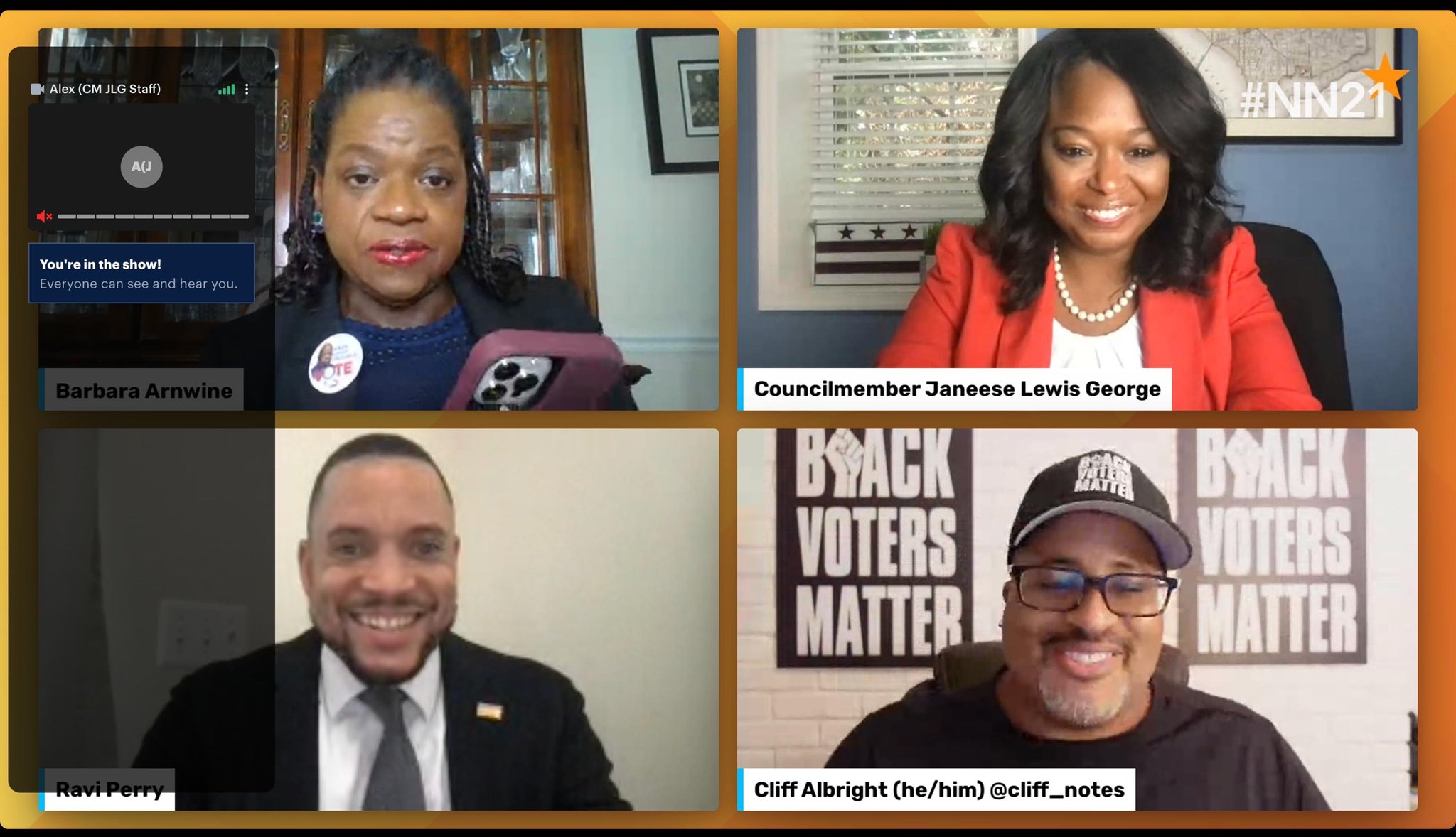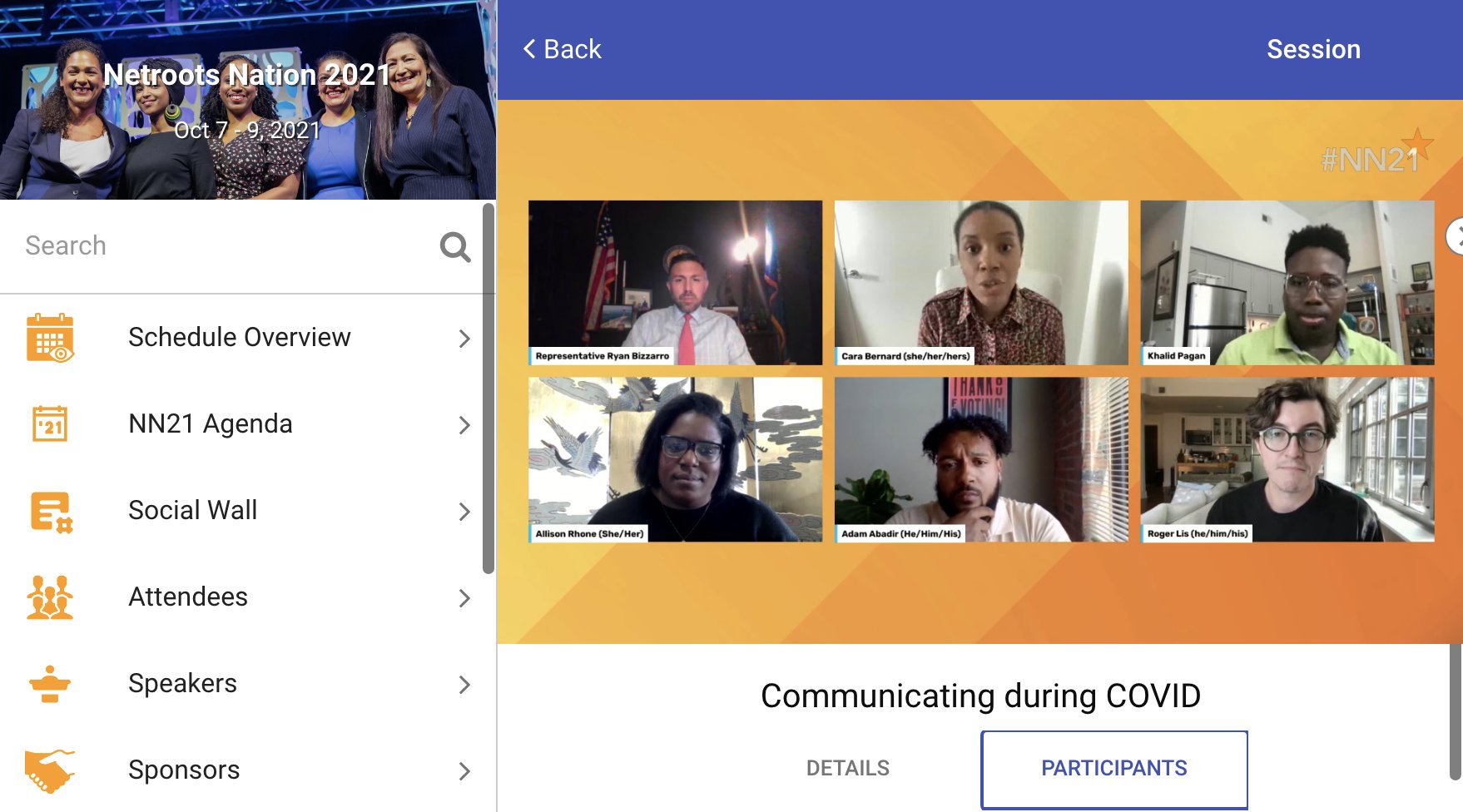 Netroots Nation (501c4) is a project of the Netroots Foundation which is registered as a 501(c)3, and whose mission is:
"To bring together online citizens across America, inject progressive voices into the national conversation, and advance the values of justice, equality, and community in our nation's politics."
Their three primary programs are listed on the foundation's website as:
New Media Mentors: A hands-on learning program that helps nonprofits build their power and win campaigns.

Netroots Nation: An annual conference for progressive organizers with a heavy focus on trainings and networking.

Fiscal Sponsorships: We provide fiscal sponsorship services to organizations that align with our mission and goals.
New Media Mentors' focus states they "help nonprofits build their power and win campaigns" via Digital Academy courses centered around virtual support that break down into 4 one-month courses.
Past Mentees of the New Media Mentors program include organizations such as PFLAG (Parents, Families, and Friends of Lesbians and Gays), Planned Parenthood of NYC, Democracy for America, California Immigrant Policy Center, and dozens of other "progressive" organizations.
The fiscal sponsorships allow organizations not yet listed as a 501(c)3 to receive donations and financial backing indirectly, with a percentage-based service fee collected by the Netroots Foundation.
This Year's Agenda
---
For those paying attention, the annual Netroots gathering foreshadows budding narratives. A glance at the agenda this year confirms that the left considers "white supremacy", abortion, "climate change", January 6, race-baiting, anti-American sentiment and open borders to be some of the most important issues to press into mainstream culture.
The three-day conference offers many radically Bolshevik-esque topics such as:
CONGRESS IS AN UNSTABLE WORKPLACE: EXAMINING THE EFFECTS OF JANUARY 6 ON THE HILL

THE TRAP OF DOMESTIC TERRORISM: HOW NOT TO FIGHT WHITE SUPREMACY

YOUTUBE BEST PRACTICES FOR CIVICS

JANUARY 6TH: TRACING THE TRAITORS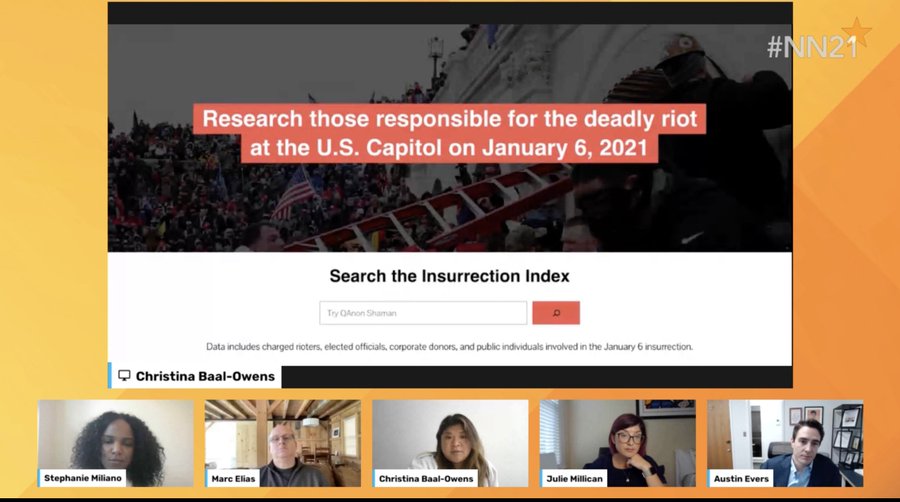 THE THREAT OF BIG TECH AND DISINFORMATION TO SOCIAL MOVEMENTS

THE CRIMINALIZATION OF ABORTION

SURVIVAL OF THE SQUAD: VIOLENCE AGAINST WOMEN OF COLOR IN POLITICS
PUT YOUR OWN OXYGEN MASK ON FIRST: SELF CARE TOOLS FOR ACTIVISTS AND OPERATIVES

EXPANDING THE SUPREME COURT TO PROTECT ABORTION RIGHTS

ENVIRONMENTAL JUSTICE AND THE POLITICS OF EQUITY

ON OFFENSE: HOW DEM AGS ARE ADVANCING PROGRESSIVE VALUES IN A BIDEN-HARRIS ADMINISTRATION

ABOLISHING DEPORTATION: MIGRATION AS A HUMAN RIGHT

FIGHTING FOR THE GREEN NEW DEAL ON THE HILL

ORGANIZING THE JEWISH VOTE: BUILDING A LEFT JEWISH ELECTORAL FLANK

REBALANCING THE SUPREME COURT: WHY PROGRESSIVES MUST TAKE BACK THE [STOLEN] COURT TO SAVE OUR DEMOCRACY
PROGRESSIVE STORYTIME FOR KIDS

BRIDGING CULTURAL DISCONNECTS AS A PROGRESSIVE CANDIDATE OF COLOR

GAME CHANGER: THE POWER OF LGBTQ CIVIC ENGAGEMENT

FROM STANDING ROCK TO VIEQUES, PUERTO RICO: THE COST OF U.S. COLONIALISM
…and dozens of other panels and training sessions that focus on the typical ideology you would expect to see from a party that resembles full-blown socialism.
Netroots Nation Conference Keynote Speakers
---
Guest note speakers in past years include former President Barack Obama, former Vice President Joe Biden, Nancy Pelosi, Stacy Abrams, Ilhan Omar, Alexandria Ocasio-Cortez, Elizabeth Warren, and former president Bill Clinton, among many other well-known politicians and "grassroots activists".
This year, Netroots Nation is host to many well-known keynote speakers and Democrat politicians from around the country. From Rep. Ted Lieu, to "Squad" members Rep. Rashida Tlaib and Rep. Ayanna Pressley, Rep. Joe Neguse, Minnesota AG Keith Ellison, to Sen. Tina Smith, Rep. Mondaire Jones, and Rep. Barbara Lee, among others.
The "progressive media company for political activists, act.tv has been highlighting some of the keynote speakers at this year's conference via their Twitter account:
Sponsors
---
There are some familiar names that pop up under sponsors of the conference which include ActBlue, Action Network, Facebook, YouTube, Democracy for America, the Democratic Governors Association, the Democratic National Committee, Everytown, Media Matters, MoveOn, and many more.
The Democratic Governors Association, Democratic National Committee, and Everytown all use ActBlue which is registered as a non-profit charitable organization, but donations to any of these groups are not tax-deductible as a charitable contribution or as a business expense under IRC Section 162(e).
ActBlue raised over $4 billion in 2019-2020 alone with many donations going through Black Lives Matter's website.
Elected Democrats and Biden administration officials are given a large platform at Netroots, along with militant socialists. Republicans should call out these radical associations, but they remain silent.
Watch some of the discussions from the conference, specifically with elected officials: