Never let a crisis go to waste, right? The irresponsible propagandists at CNN and elsewhere are desperately trying to tie the horrific flooding in Venice, Italy to man-made global warming, just as they tie everything they possibly can to man-made global warming (or is it climate change?). Of course, repeating the same thing over and over does not make it true.
Much of the recent "coverage" of the Venice floods mocks the town council for not squandering taxpayer money on the EU-promoted global warming agenda. CNN, the Guardian, the Washington Post and others all gleefully reported on the town council's decisions based on a Facebook Post by Democratic Party councilor Andrea Zanoni, which decried his colleagues for not "funding for renewable sources, for electric columns, for the replacement of diesel buses with more efficient and less polluting ones, for the scrapping of the very polluting stoves, to finance the Covenants of Mayors for Energy Sustainable and Climate (PAESC), to reduce the impact of plastics, etc." (Translated from Italian)
A simple search will bring up the historical floods in Venice, showing that the flooding in Venice, known as Acqua alta, is unfortunately, a phenomenon that occurs occasionally – and naturally – and for centuries. Consider this fascinating and well-documented account of flooding through the centuries the soon-to-be-released book: "Lived Religion and Everyday Life in Early Modern Hagiographic Material":
Over a half a century ago, Venice experienced flood waters peaking at a whopping 194 cm above sea level, a devastating flood considering that "exceptional high waters [are] when the measured sea level exceeds 140 cm. above the standard." In the wake of that event, which has not been matched since (but has certainly had competition), many groups have formed to strategize how to deal with the recurring floods in Venice.
In 1969, Reuters reported that Venice would completely sink by 1990.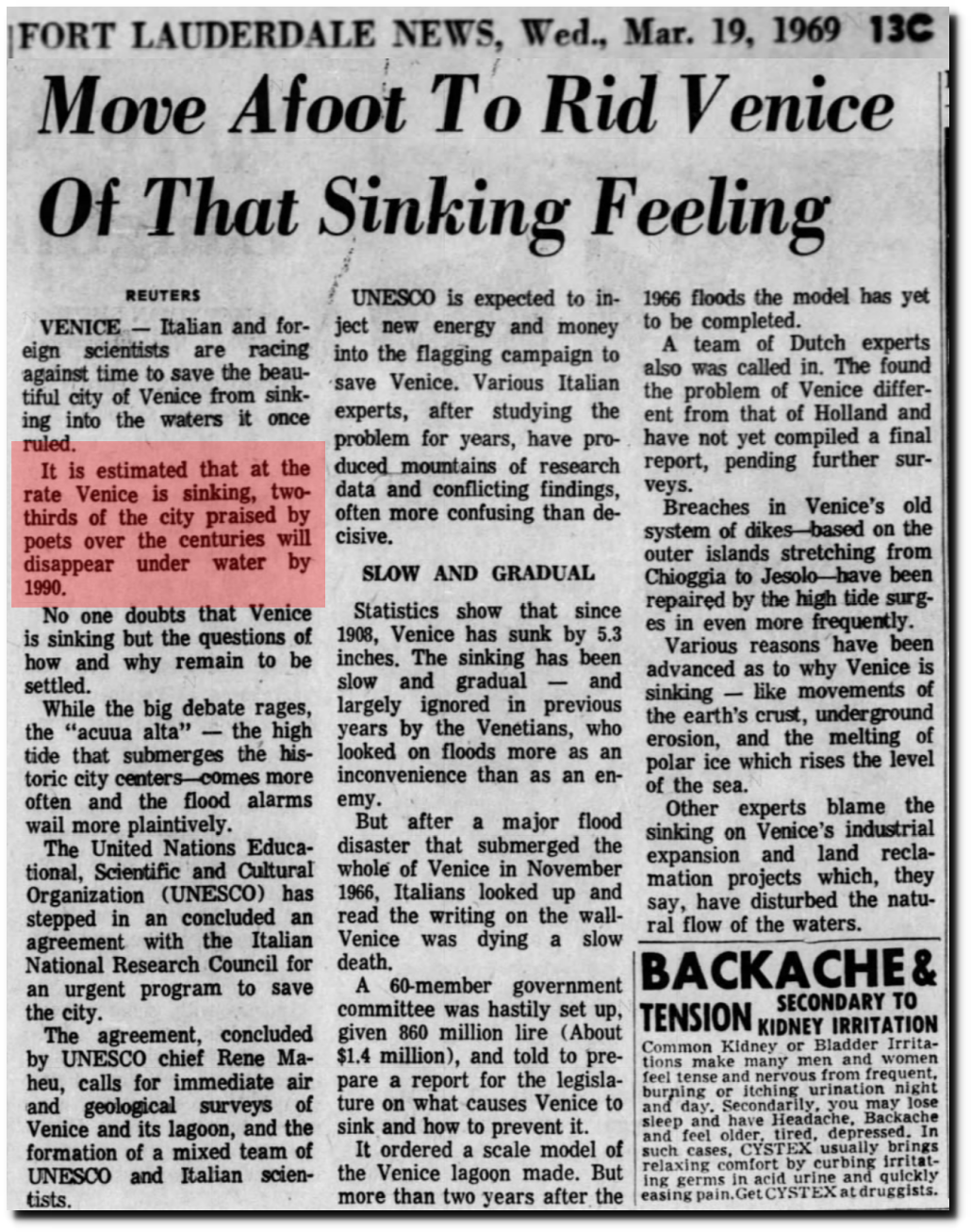 According to Italy's "High Water Information Centre", the "exceptional" tides occur approximately every five years. They are most common in the winter months, particularly November.
Below are instances of "exceptional high waters" in Venice:
153 cm on January 15 1867
147 cm on April 16, 1936
151 cm on November 12, 1951
145 cm on October 15, 1960
194 cm on November 4, 1966
144 cm on November 3, 1968
140 cm on February 17, 1979
166 cm on December 22, 1979
158 cm on February 1, 1986
142 cm on December 8, 1992
144 cm on November 6, 2000
147 cm on November 16, 2002
156 cm on December 1, 2008
149 cm on November 12, 2012
154 cm on November 13 2019
The painter Vincenzo Chilone (Italian, 1758–1839) Painted the wonderful "View of the flooded Piazza San Marco" documenting the flood that took place in Venice on December 9, 1825: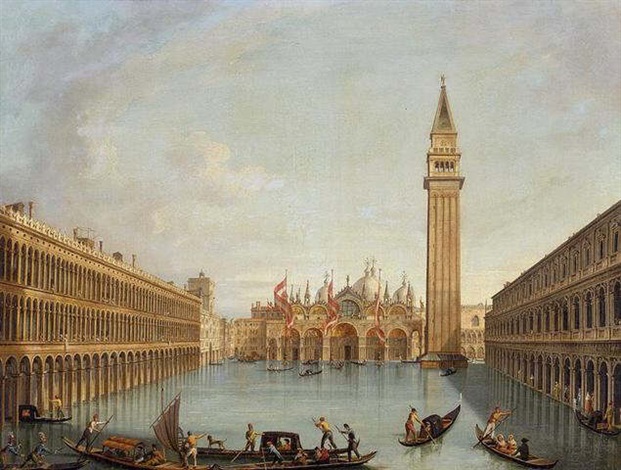 Compare to an image of Venice after the flood on 13 November 2019 from the BBC: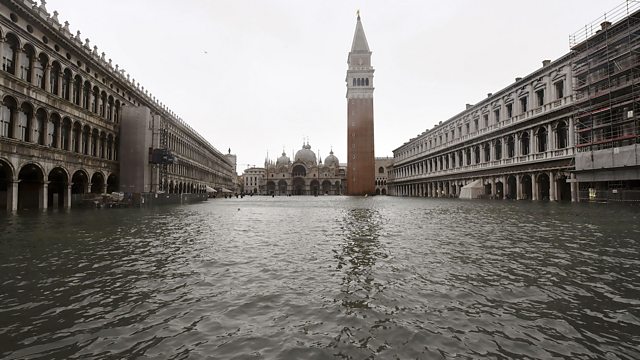 It is highly unlikely that these floods will stop if people stop eating hamburgers. Or if the Venice town council buys non-diesel buses.
PLEASE HELP RAIR FOUNDATION USA EXPOSE THE ENEMIES OF THE WEST! REPORT SUBVERSIVE ACTIVITY IN YOUR COMMUNITY BEING IGNORED BY THE ESTABLISHMENT! EMAIL INFO@RAIRFOUNDATION.COM! BECOME A MEMBER, DONATE, AND TELL YOUR FRIENDS!