In the wake of the 2017 Manchester Arena bombing, then-Prime Minister Theresa May created the Commission for Countering Extremism (CCE), which has predictably turned into a government agency that seeks to weaponize speech against those who dare to criticize disastrous hard left policies, such as unchecked migration.
As reported at TR.NEWS, long-time activist Sara Khan "was charged with the task of reviewing the government's current strategy in tackling Extremism." Part of that strategy is to define so-called "hateful extremism," which as TR.NEWS points out, is "'subjective' and down to interpretation." Anyone who has been falsely labeled as a "racist," "white supremacist," "nazi," or "Islamophobic," for example, will immediately understand the danger of such vague criteria: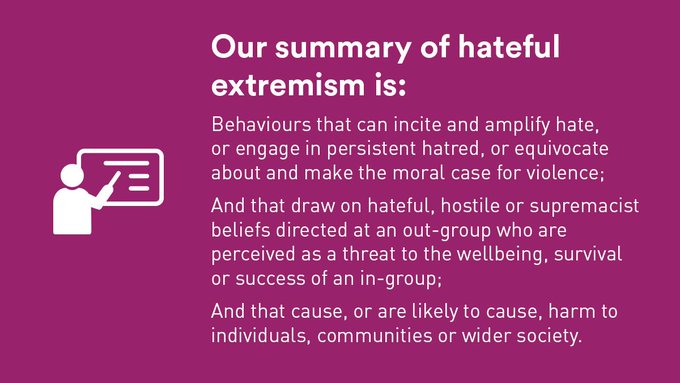 The truth is that any attempt to control "hate" is completely futile and will always result in persecution of political opponents. The CCE has already failed miserably, as it has added extreme left partisan figures to its "Commission's Expert Group."
As Pointed out at TR.NEWS:
Hope Not Hate's disgraced and discredited Nick Lowles is a far-left agitator and has managed to worm his way into groups that have a profound effect on government policy. We have already exposed Nick, and his staff at Hope Not Hate for conspiring with the BBC and their ex-employee John Sweeney.

Hope Not Hate are not after the truth, they are ideologues after a policy or narrative win at all times by any means necessary. If that means colluding and conspiring with the likes of the BBC to destroy Tommy Robinson with manufactured salacious lies, they are happy to do so. You can see Hope Not Hate's involvement with the BBC to destroy Tommy Robinson with fabricated stories by watching the Panodrama documentary HERE.

Hope Not Hate set out to de-platform people from social media, people with views they do not agree with, you can find that on their website by clicking HERE.
Also included in the Commission of Experts, shockingly, is Fiyaz Mughal.
From TR.NEWS:
Fiyaz Mughal of Faith Matters and Tell Mamma. Fiyaz's website Tell Mamma is devoted to 'addressing anti-Muslim hatred, racism, prejudice and bigotry.' On its face, it sounds like a worthwhile cause, the only issue is that the website has been used to spin a victim narrative that has little foundation in fact.

The website has grossly 'over-reported' hate crimes that did not hold water. When the 'hate crimes' Tell Mamma propagandised were cross-referenced with reports from the Association of Chief Police Officers, those figures did not add up. There was no correlation or corroboration of anything resembling factual coming from the website. This expose led to Tell Mamma losing government funding although it had already reaped in £375,000 from the Department for Communities and Local Government in 2012.

The Tell Mamma website business model was and still is based on finding hate, it needs 'hate' to stay relevant and generate revenue. You can read more about Tell Mamma's methods by clicking HERE.
The inclusion of these two alone is enough to completely discredit the CCE.
PLEASE HELP RAIR FOUNDATION USA EXPOSE THE ENEMIES OF THE WEST! REPORT SUBVERSIVE ACTIVITY IN YOUR COMMUNITY BEING IGNORED BY THE ESTABLISHMENT! EMAIL INFO@RAIRFOUNDATION.COM! BECOME A MEMBER, DONATE, AND TELL YOUR FRIENDS!