"In the face of this travesty of justice, this assault on common sense, parental rights and the absolute failure to protect a precious youth in our nation who has been used as a pawn for an agenda that will not be fully understood until they're in their adult years, I have asked myself, 'Am I going to bow to this establishment that wants all of this kept quiet so they can keep hurting families and other children?'" – Robert Hoogland, father of "transitioning" child, Canada
Attention Canadian Citizens! Please write to RAIR Foundation USA at Info@RAIRFoundation.com if you or someone you know is experiencing similar circumstances as Robert Hoogland. – Ed.
Activist judges are stripping parents of parental rights in Canada. Children have been coached into permanently changing their biological sex by means of hormones and/or surgery, and all possible measures have been taken to ensure this travesty remains hidden from Canadian citizens. Part of the cover up includes gagging guardians of the victims from speaking publicly.
One man has defied the gag order. Robert Hoogland, whose then-six grader was encouraged to change from a girl to a boy by her teachers, so-called counselors, doctors and judges without his knowledge or consent, has been defying court orders to be silent, has threatened him with jail time and has supported Hoogland's daughter's petition to "divorce" her parents (using radical attorney Barbara Findlay). Big tech has been diligently removing everything related to his case, but he persists.
According to an interview with Former People's Party of Canada candidate Laura-Lynn Tyler Thompson, Hoogland speculates that he has avoided prison time because it would draw more attention to his case and make him a "martyr." Listen to this part of the discussion at around the 20 minute mark below.
Despite the gag order, Hoogland continues to reveal the names of those who were collaborating to change his daughter's sex.
Watch:
Hoogland noticed changes in his daughter around sixth grade when she started to act more like a tomboy. She was hanging out more and more with boys around the same age and was getting into a little trouble. Hoogland sent her to a school counselor in hopes that some of that behavior would be remedied.
"I trusted the school system and the school counselors that they were getting things done with my daughter that were of her best interest, so to speak," Hoogland said.
Hoogland told Thompson that his daughter had experienced schoolgirl crushes on male teachers in the past, and in one case had to be removed from class for such a crush. This life-changing event sparked a downward spiral for the child who began to inflict injuries upon herself and attempted suicide several times.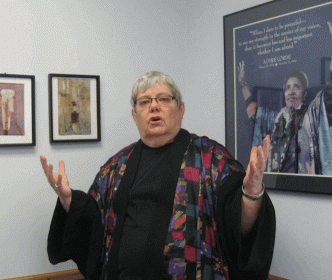 According to Hoogland's original court application (which has since been pulled from the internet), his daughter began to identify as male after having seen the pro-transgender video "Handsome and Majestic" while at school.
Hoogland's daughter expressed to her father that she would be appearing in the yearbook for seventh grade under the name of a male, and not her own name. Hoogland was angered that the school would go along with the delusion and expressed his concerns at the time. To his shock, it was later revealed in a court affidavit that the school counselor had arranged the change be made in the yearbook and in numerous meetings with the child. It was the school that began to pressure her to transition into a male. The child's parents were not made aware of the changes per British Columbia's Sexual Orientation and Gender Identity (SOGI) policy. The school further accommodated the child by referring to her by this new male name and allowing the child to now use the bathroom designated for males.
"What they're telling these kids is, you don't have to be that sad little girl. You're not happy with that? Well, you can become like an avatar in a video game….They're saying to kids, we can do that to you in real life. You don't have to be the person you don't want to be, we're going to make you into something else. They create this delusion," Hoogland said.
"I'll never have grandkids now, thanks to these doctors."
"They're not thinking ahead, they're making decisions based on feelings, that's what children do. They don't make decisions based on playing the tape forward and thinking down the road. Kids aren't thinking at that age about having families or having children," Hoogland stated.
Hoogland's ex-wife told him she had been looking into finding professional counseling for their daughter and that she would soon be seeing Dr. Wallace Wong (seen below) who deals in gender dysphoria. It wasn't until much later that the father found out Wong had been recommended by the school directly, and not found through the mother's research. The daughter was to be treated for depression, but instead Wong began pushing his cross-sex ideology onto her instead.

Dr. Wallace Wong has been scrutinized for his ideological agenda and his approach in not only the school system, but disturbingly, also in the foster care system in British Columbia. During an event hosted at the Vancouver Public Library just one day after Bowden's ruling, Wong was recorded describing his "gender therapy" practice, revealing that at the time he had 501 foster children he treated at his practice, with his youngest patient only two years old. Today, the number of foster children receiving Dr. Wong's "gender therapy" treatment is over 1,000.
In a Culture Guard transcript (also now wiped from the internet), Wong stated that within the Gender Health Clinic there are "more than 500 kids, just from the ministry alone. If I'm talking about my private practice altogether, we have … I see more than 1,000." This means that Dr. Wallace Wong is diagnosing more than 10-20% of said children as in need of "gender therapy".
Wong has stated that he started his practice in 2010 with only 'four clients at the ministry' but in the course of nine years, there was such an enormous surge of need within that population that he now has "more than 500 kids, [with] just the Ministry alone…. So we can imagine the demand of service is soaring…. The phenomenon is happening a lot faster than – than we expected."
Shockingly, Wong has recommended parents of children who feel they want to transition to exaggerate the child's condition while at local hospitals or medical offices, advising they use threats of suicide to speed up the process.
"So what you need is, you know what? Pull a stunt. Suicide, every time, [then] they will give you what you need," Wong said, adding that gender-dysphoric kids "learn that. They learn it very fast."
In a recent study, 42% of LGBTQ youth who underwent conversion therapy reported a suicide attempt within the last year, with two-thirds reporting that "someone attempted to convince them to change their sexual orientation or gender identity." In addition, the report found that LGBTQ youth who were discriminated against due to their gender dysphoria were twice as likely to attempt suicide.
Unfortunately, after the daughter's very first assessment with Dr. Wong in February of 2018, the psychologist immediately referred her to the B.C. Children's Hospital where she began receiving testosterone injections under the care of Dr. Brenden Hursh later that fall.
Hoogland told Thompson the consent form described the injections as experimental and held a high risk of heart disease, heart attacks, different types of cancer, growth retardation – as to not go into puberty – bone density stops, sterilization, and other unknown risks. It stated not only would his daughter begin to grow facial hair, but her voice would deepen, she would eventually have a receding hairline, and that her clitoris would begin to grow, though it would never function as a penis. The cross-sex hormone treatments have already caused the biologically female child's voice to deepen, facial hair is now present, and the shots have caused irrevocable infertility. The child's mother gave consent for her to be treated by Wong and Hursh, while the father strongly contested and refused consent.
According to court documents, the daughter admitted to having tried to commit suicide in March of 2018, one month after the first assessment with Dr. Wong. At that time both the child, the mother, and Dr.Wong expressed to Dr. Hursh that they didn't feel the suicide attempt had anything to do with the child's gender dysphoria. Dr. Hursh expressed his concern that any delay in continuing the hormone treatment would put the child at a greater risk of suicide.
After receiving notification via letter on December 1st, 2018, Hursh informed the father that the child was mature enough to make the decision to transition and that he would no longer have any say in his own daughter's medical care, with the state taking over all rights Under section 17 of the Infant's Act of British Columbia. The father was also informed that treatments would commence after December 15th, 2018.
"The government has no business parenting children. This is the destruction of the nuclear family," Hoogland declared.
After being referred by Hursh to Dr. Andrea Chapman, a psychiatrist at BCCH, Chapman and Dr. Pam Narang met with the child alone, then with the mother where Chapman concluded that the child was old enough to consent to treatment. Wong and Hursh also found the child competent to continue hormone treatment, without parental consent.
Dr. Daniel Metzger, as part of a team of BCCH professionals, also reviewed the child's chart and stated that any child dealing with gender identity issues who has also previously attempted suicide risked attempting or completing suicide if any delay of the hormonal treatments persisted. Metzger said each day the child goes without "treatment", the body would develop more "female-ness", looking less like a boy, and causing distress and possible bullying and harassment.
Hoogland then filed a petition to the court February 14th, 2019 in which he named nine different respondents including the elementary school and high school counselors and officials, the Ministry of Education for British Columbia, and the Provincial Health Service Authority (BCCH).
A Supreme Court of British Columbia ruling February 27th, 2019 by Judge Gregory Bowden states that the father cannot stop the cross-sex hormone shots being administered to his own daughter. Bowden further ruled that the child "be referred to as male and identified by his chosen name in all legal proceedings, be allowed to change his legal name without the need for consent from his parents, is 'exclusively entitled' to consent to medical treatment for his gender dysphoria," and that any attempt to persuade the child to abandon these gender-morphing treatments or the use of female pronouns by either parent would be considered 'family violence' under the Family Law Act. A publication ban was set forth where all parties involved, as well as media would not be allowed to publicize the names of the child, the father, the mother, any health care provider at BCCH, or otherwise stated in any court documents pertaining to the case.
In a formal complaint dated April 4th, 2019, the father (referred to as CD throughout court documents) alleges to the College of Psychologists of British Columbia that Dr. Wallace Wong "committed acts of professional misconduct and failed to maintain the standards of his profession."
Thompson states during the interview that between 82-92% of adolescents who struggle with gender dysphoria will desist from those feelings once puberty has passed and that given enough time, the issues will resolve. Hoogland said that the number was closer to 98%, but when brought up in court numerous times, it would fall on deaf ears.
On February 11th, 2020, Thompson received a request to remove her interview with Hoogland on the grounds of it being a violation to the court order. "It stated it restricts publication of information that could identify family members and medical professionals involved in the case. They attached an order of Mr. Justice Bowden which includes the initial publication ban prohibiting publication of information that would identify family members and the entered order of Madame Justice Marzari prohibiting publication of the health care professionals," Thompson said in a follow up video after receiving the notification to remove the interview from all internet platforms.
"I wonder if healthcare professionals are doing the right thing, why we would have to hide their names? They further state and want me to confirm that I will comply and remove all copies of the videos that I've posted on my social media, all sites, and if I do not cooperate with this then they may proceed to seek an order in the B.C. Supreme Court on an urgent basis this week," Thompson said.
"In the face of this travesty of justice, this assault on common sense, parental rights and the absolute failure to protect a precious youth in our nation who has been used as a pawn for an agenda that will not be fully understood until they're in their adult years, I have asked myself, 'Am I going to bow to this establishment that wants all of this kept quiet so they can keep hurting families and other children?'"
Thompson's Twitter account was suspended for "violating rules against posting private media of an individual from a country with a recognized right to privacy law", until she agreed to remove the following tweet dated February 9th, 2020:
"Rob Hoogland is finally speaking out. His child was transitioned against his wishes. Canadian educators, doctors, social workers and judges have collaborated (sic) in an atrocity. Courageous father finally speaks out https://t.co.TDMxX5uodd via @YouTube"

"Apparently Twitter is an open forum for pedophiles to chat it up, but I can't talk about the protection of children," Thompson declared.
Thompson goes on to say that transgender advocate Morgane Oger, along with the Morgane Oger Foundation, believes it to be important that schools keep confidential information from parents and helps transgenders "obliterate the rights of women."
"There are a few times in life where you must do what is right and not what is easy. There are moments when something is so evil and insidious that if you remain silent or if you bow to the establishment, you will have to live with the cowardice of your soul, and that, I cannot live with," Thompson continued.
"Activists are using their trusted positions of authority and pushing an agenda to normalize something that is so vile, so radical, so totalitarian, so unconstitutional, that it is causing irreparable, permanent harm to minors. We cannot be silent. This agenda to sterilize and mutilate children is in violation of Sec 2, Sec 7, Sec 15 of the charter of rights and freedoms, the universal declaration of human rights as well as the international covenant on civil and political rights. Every part of this grotesque agenda is fueled by extremists who have infiltrated key positions and are working together to silence opposition. Well, I for one will not be silenced. This father's story must be heard. It could be your child."
"I will not comply with this request from the lawyers to remove the video. You can now find it on bitchute and I will post it on all social media platforms and I urge you to download it for yourself and embed it in your own channels. I'm here to say today, this far and no further. We have people who are rising up and saying we will not be silent any longer. This cannot be stopped, you cannot force us to be silent in the face of this atrocity, you just can't. What am I to do, to just bow to this, to not stand, to not fight? I think it's time to stand."
On Wednesday, Feb 12th, 2020, B.C. Supreme Court Justice Michael Tammen ordered that videos of Hoogland's interviews with Former People's Party of Canada candidate Laura-Lynn Tyler Thompson be removed from the internet. Lawyers for the teen argued that both Laura-Lynn Tyler Thompson and transgender activist Jenn Smith were in violation of prior court orders to prevent the identification of the teen, the mother and father of the teen, and any and all medical professionals involved in the case.
The gag order was handed down following the ruling in January by the B.C. Court of Appeals to continue the testosterone injections, which the father was fully opposed to while the mother supported their continued administration.
One lawyer representing the teen, Sarah Chaster, informed Justice Tammen the father had "wilfully" breached the bans by doing the interviews and posting on several platforms online and on social media. Chaster said one interview posted on February 7th had been removed on the 9th at the request of the child's lawyers, but Hoogland did a second hour-long interview with Thompson in which he not only identified himself, but the father referred to his child as his daughter, which Chaster believes was in violation of the court orders.
Chaster corresponded with both Twitter, Facebook, and YouTube to have the videos removed, but Chaster said the video still remains online on other platforms.
Chaster further explained that Jenn Smith was in violation of the bans when the father and medical professionals were named in other materials online.
The father was scheduled for an interview later that evening (Wednesday) with Smith, but the judge immediately shut that down.
"What it clearly means is that what you cannot do is give interviews that are likely to be broadcast in any way, in any form and that's what has occurred here," the judge told the dad. "You're simply not entitled to do that, sir. Do you understand that part of it?"
To which the father replied, "I completely understand that part of it, yes."
The father told Justice Tammen he had done the interviews because it was in his child's best interest, but Tammen responded by reminding the father if he continued to speak out that lawyers for the child could ask that he be cited for contempt of court. The same was repeated to both Thompson and Smith by Justice Tammen. Smith, Thompson, and Hoogland appeared in court legally unrepresented.
Thompson uploaded a video prior to the court appearance, and added additional commentary after her court appearance saying she received no less than three letters by the teen's lawyers summoning her to appear in court on Wednesday.
Despite the threats and warnings to remain silent. Thompson just released another report exposing the radical network of activist lawyers, judges, politicians and doctors in Canada pushing for and profiting from this state sponsored child abuse.
Thompson reveals how Dr. Wong goes so far as to advise kids and parents to even threaten suicide if they are not given the cross-sex hormones they are asking for:
So what you need is, you know what? Pull a stunt. Suicide, every time, [then] they will give you what you need," Wong said, adding that gender-dysphoric kids "learn that. They learn it very fast."
Call To Action – How you can help:
Contact politicians at every level of government with this URGENT CALL TO ACTION. It includes information on the case itself, a guide to contacting elected officials, and a pre-formatted letter addressed to Senators and Members of Parliament.
RAIR Foundation USA will continue following this case closely and bringing you updates as we receive them.